How to Order
Overview
Japanese Yen price (JPY)

Of course, prepared the tool which can be converted to the currency of your country easily at each page. Currency & Shipping Calculator

Paypal payment

Please use the convenient Paypal, you can also use credit cards.
Please click logo If you do not have an account. (Open in new window)

EMS Shipping by International Shipping Center

All parcels are shipped by EMS (Express Mail Service) with tracking No. and insurance. EMS is very safe and reliable system.
And Shipment is done by International Shipping Center depending on the case. They are professional specialized in international shipment.
To keep parcels safety at international shipping and smooth customs clearance needs skilled knowledge.
Therefore, it is much more certainty than shipping by shops.
Order Flow
1. Order Sheet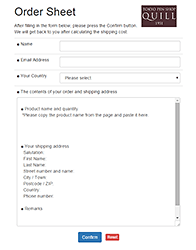 Now we are under considering next shopping cart system.
We are sorry for bothering you, but please use the mail order sheet for a while.
Please copy the product data from the goods page and paste on the order sheet, then press the send button.
If you order some items, please summarized in one sheet.
After submission, the copy of the order sheet will send to you automatically.
Order Sheet

Currency & Shipping Calculator

2. Confirmation and Payment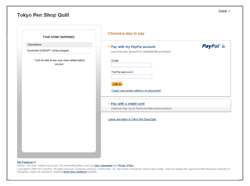 We measure the packing weight and calculate the shipping cost. Then we will inform you total price and send PayPal invoice mail.
Please payment via the e-mail link after confirming.
We strive to quick reply, but please take into the consideration of the time difference and our business hours.
Please refer to our working hour schedule here.
3. Shipment
After confirming your payment, we ship your goods soon.
The goods will arrive to the International Shipment Center in the next day or two days later.
The International Shipment Center will ship the goods within a day or two business days.
We will send the EMS tracking number by e-mail to you as soon as it issued.
Please wait for the arrival of the goods at ease.
Other
Change or cancel an order
Canceling or changing after the order has been placed
Please contact us by e-mail before payment.
Please note that your order begin processing immediately after your payment, and it not be possible to cancel or change the order after shipping.